Nashville Original Lager Beer
Nashville Original Lager is a traditional Bavarian Helles; brewed in time-honored fashion dating back to the late 1800s. Helles in German mean "bright" and this beer truly lives up to its name. This bright golden lager is brewed with Weyermann Pilsner malt and Hallertauer Mittelfrüh hops. These imported German grains and hops give Nashville Lager a delicate malty mouthfeel balanced with a spicy hop character.
1897 Pilsner Beer
1897 Pilsner is brewed in the Czech-style pilsner brewed in the true Bohemian fashion. This straw colored lager has a crisp, caramelly mouthfeel with a definitive Saaz hop flavor. Pilsners were the most popular beer brewed by European immigrants in the late 1800s. This was the beer mostly enjoyed at the 1897 Tennessee Centennial Exposition.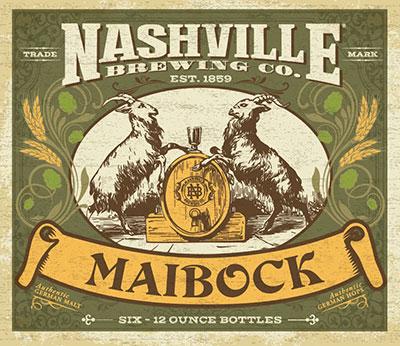 Nashville Maibock Beer
Nashville Maibock is refreshing beer traditionally served in the springtime (Mai is German for the month of May). Often referred to as a heller (pale) bock, this style is generally brewed with additional malts creating a slightly elevated alcohol content, offset by a significant hop presence.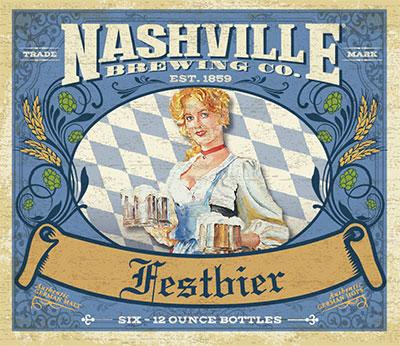 Nashville Festbier
Nashville Festbier is a traditional Märzen style beer, perfect for the autumn festivities. This deep amber colored beer was traditionally brewed in March (the German word for Märzen) and lagered (aged) during the summer. This was the style enjoyed at the first Oktoberfest in 1810.
Nashville Black Lager Beer
In Germany, black beers (Schwarzbier), are widely considered the oldest continuously brewed beer style in the world. Historians have dated black beers back to Bavaria for nearly 1,000 years. Nashville Black Lager is brewed with imported Munich malt and balanced with imported Hallertauer Mittelfrüh hops. The roasted malts give this beer a toasty mouthfeel; excellent for the winter months.
Nashville Amber Lager Beer
Nashville Amber is a historic pre-prohibition style amber lager. Originating from Vienna in the mid 1800's, amber lagers were derived when new kilning methods created malts that were light in color, contributing to a rich amber color. European immigrants brewed amber lagers in America which were slightly lighter and less malty than their European cousins. Although extremely popular prior to prohibition, amber lagers all but disappeared afterwards. We are proud to resurrect this wonderful pre-prohibition style Amber Lager.
Tell us about your Nashville Brewing Company experience.
Fill out the form below or contact Scott Mertie, Founder or Anna Laizure, Sales Director
In 2011, the Mertie family spearheaded the Nashville Historical Commission to erect a marker where the Nashville Brewery, a historic brewing location, existed for nearly 100 years. The marker is located on 6th Avenue South and was dedicated in 2017. See more on the Nashville Brewing Company history.