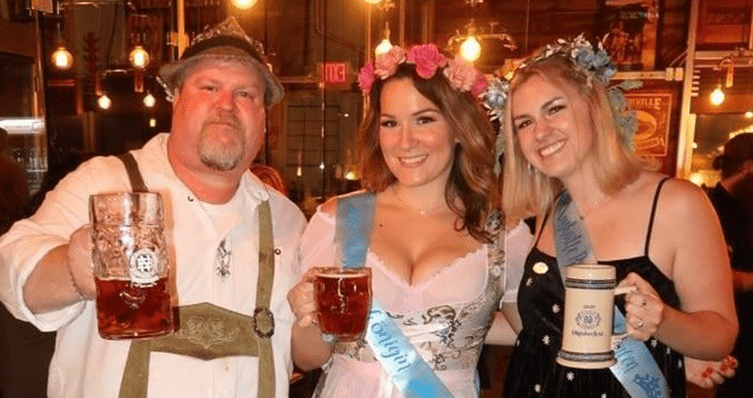 Nashville Brewing Company names 2021 Fest Queen at annual Oktoberfest
Nashville Brewing Company held its annual Oktoberfest celebration on Saturday, October 2nd at the Blackstone Brewery. While Munich cancelled their Oktoberfest for the second year in a row, the Nashville Brewing Company's Oktoberfest was in full swing. The festivities included traditional Bavarian and Polka music from the Best-Wurst Band, several stein hoisting competitions, and traditional beer brats, schnitzel, and pretzels.
The evening concluded with the annual crowning of the Bierkönigin ("Beer Queen", also known as the Fest Queen), a tradition dating back centuries celebrating the harvest and honoring the local brewery in each town throughout Bavaria.  The NBC Bierkönigin selected this year was Olivia Pipala from Knoxville, TN. Olivia was presented with a 2021 sash and hop crown by the 2020 winner, Clare Allen from Long Island, NY.  
Oktoberfest originated in 1810, as a wedding celebration between the Crown Prince of Bavaria and Princess Therese von Sachsen-Hidburghausen. Over the years, Oktoberfest celebrations merged in with Erntedankfest ("harvest thanksgiving festival"). The German Catholic Church deemed Erntedankfest to be the first Sunday of October, which ironically, is the last day of the modern-day Octoberfest, which starts the Saturday two weeks earlier.
Another tradition at Nashville Brewing Company's Oktoberfest is to feature a baby goat raised by Chris Cooper, one of the employees at the brewery. This year's goat was Marshmallow, a 3 month old female kid, who was a huge hit among both the children and adults in attendance.
The Nashville Brewing Company originally operated from 1859-1890 on 6th Ave South. In 2016, local brewery historian Scott Mertie, in partnership with Blackstone Brewing Company, resurrected the brand by recreating traditional European lagers that the German immigrants brewed in the 19th century.