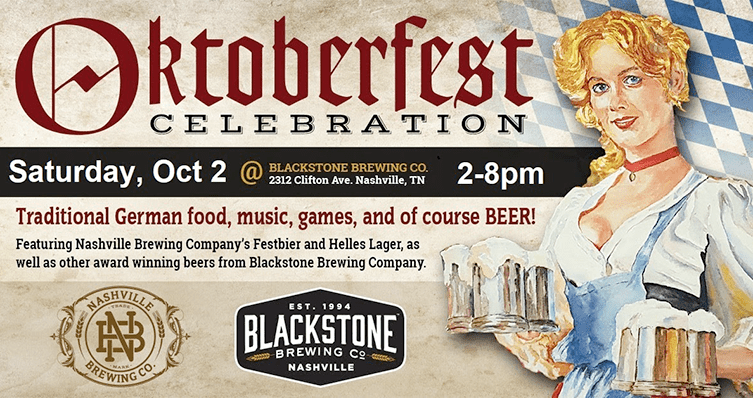 Nashville Brewing Company hosts annual Oktoberfest
Nashville Brewing Company will have its annual Oktoberfest celebration on Saturday, October 2nd at the Blackstone Brewery on 2312 Clifton Ave, Nashville TN. The doors will open at 2:00 and the official Oktoberfest beer tapping will be at 3:00.
This is the 5th year for the Nashville Brewing Oktoberfest to be held at the Blackstone production brewery on Clifton Ave. Festivities will include traditional Bavarian and Polka music from the Best-Wurst Band, as well as German brats, schnitzel and pretzels. Nashville Festbier, an Oktoberfest-Märzen style beer, will be the main attraction.
Märzen style beers are malty amber beers that were traditionally brewed in March (Märzen) and lagered (stored) in iced-down caves all summer long. For centuries Märzenbiers were enjoyed during fall harvest festivals throughout Bavaria. In 1810, King Ludwig of Bavaria welcomed the people of Munich to his son's wedding reception, declaring that free Märzenbier should be served to the public to honor this special day. That became traditional Oktoberfest celebration that has been in place for over 200 years.
While Munich cancelled their Oktoberfest for the second year in a row, the Nashville Brewing Oktoberfest will be in full swing. In addition to traditional music, food, and beer, there will be stein hoisting competitions throughout the day. The evening will conclude with the annual crowning of the Bierkönigin, or Beer Queen, a tradition dating back centuries honoring the local brewery in each small town throughout Bavaria.
The Nashville Brewing Company originally operated from 1859-1890 on 6th Ave S.  In 2016, local brewery historian Scott Mertie, in partnership with Blackstone Brewing Company, resurrected the brand by recreating traditional European lagers that the German immigrants would have brewed in Nashville during the 19th century.