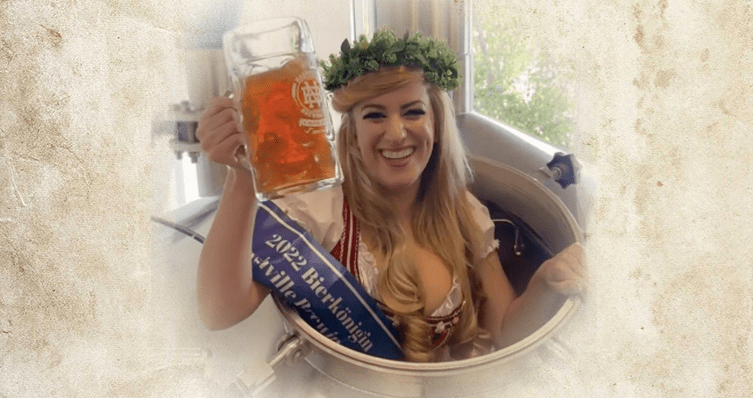 Nashville Brewing Company names 2022 Beer Queen at annual Oktoberfest
Nashville Brewing Company and Blackstone Brewing Company held their annual Oktoberfest celebration on Saturday, October 1st. NBC owner Scott Mertie kicked off the event by tapping a keg of Nashville Festbier. The festivities included traditional Bavarian and Polka music from the Best-Wurst Band, stein hoisting competitions, and traditional food such as beer brats, schnitzel and cheese plates by Kenny's Farmhouse Cheese.
Kelsey Simon from Nashville was chosen as the 2022 "Bierkönigin" or Beer Queen (aka Fest Queen), a Bavarian tradition dating back centuries. Kelsey was presented with a custom 2022 satin sash, stein, and a "Hopfenkrone" (a crown decorated with hops). Other recent NBC beer queens were Olivia Pipala (2021) from NJ and Clare McCaffrey (2020) from NY.
Oktoberfest originated in 1810, as a wedding celebration between the Crown Prince of Bavaria and Princess Therese von Sachsen-Hidburghausen. However, "Erntedankfest" or "harvest thanksgiving festivals" were going throughout Bavaria for centuries. The German Catholic Church deemed Erntedankfest to be the first Sunday of October, which ironically, is the last day of the modern-day Octoberfest, which starts two weeks earlier. Over the years, Oktoberfest celebrations were combined with harvest festivals to make one big celebration. A BierKönigin was always selected at these festivals to represent the town's local brewery.
Another tradition at Nashville Brewing Company's Oktoberfest is to feature a baby goat raised by Chris Cooper, a longtime employee at the brewery. This year's goat was Little Waylon, a 3-month-old kid, who was a huge hit among children (and adults) in attendance.
The Nashville Brewing Company originally operated from 1859-1890 on 6th Ave South. In 2016, local brewery historian Scott Mertie, in partnership with Blackstone Brewing Company, resurrected the brand by recreating traditional European lagers that the German immigrants brewed in the 19th century.