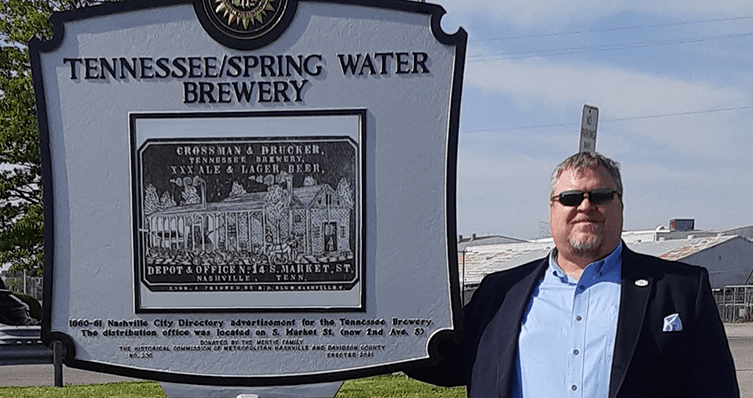 New historical marker recognizes mid-nineteenth brewery

A new historical marker recognizing the Tennessee/Spring Water Brewery was installed recently by Metro Nashville Public Works near BNA at the Aircraft Observation Area on Vultee Blvd.
The historic brewery was initially founded by in 1858 off Murfreesboro Pike, near Franklin College. It operated as the Tennessee Brewing until it was destroyed by fire during the Civil War. It was rebuilt as the Spring Water Brewery and operated until 1872.
The opposite side of the historical marker depicts an advertisement from the 1860/61 Nashville City Directory. The Tennessee Brewing distributed its beer from its offices on S. Market Street (2nd Avenue).
Jessica Reeves, historic preservationist with the Metro Historical Commission, stated: "As the craft beer scene in Nashville continues to grow, I think it is exceptional that we are still honoring the history of beer-making in Nashville. Every new marker that we install just adds to the richness of our understanding of early life in Middle Tennessee and the integral part that brewing had in it. The Historical Commission is so thankful to have the support of community partners like Scott Mertie, who is a tireless advocate for remembering our past, especially when it comes to beer."
This is the fifth brewery-related historical marker commissioned by Scott Mertie and his wife, Candy:
The Nashville Brewery marker was erected on 6th Avenue South at the original location of the Nashville Brewing Company (1859-1890) and the Wm. Gerst Brewing Company (1890-1954).
The Germantown Brewery District marker is located on 5th Ave North. It recognizes the four neighborhood breweries that operated in Germantown in the 1860s.
The Nashville Porter and Ale Brewery marker is located at 1901 Charlotte Ave, which was originally established in 1815.
The Brewery at Mill Creek marker is located on Elm Hill Pike at Massman Drive, which was also fiirst established in 1815.
See Brewery Collectibles Club of America®'s related post: New Historical Marker Recognizes Nineteenth Century Brewery