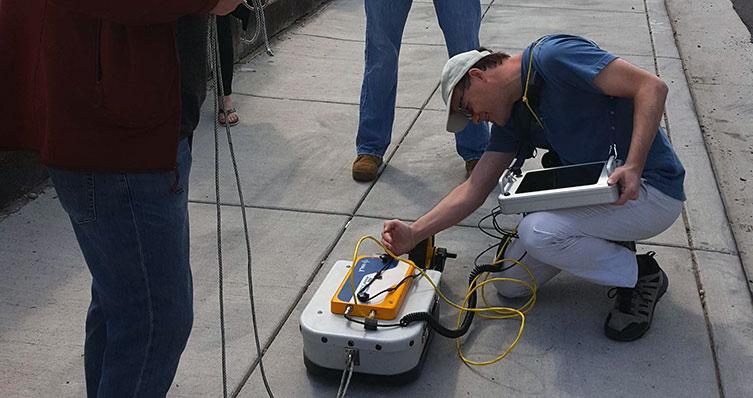 Beer enthusiasts use ground-penetrating radar to locate Nashville historic beer cellars
Watch News Channel 5 story: Beer historian, archaeologist team in high-tech search for 19th century beer cellars
Watch News Channel 4 story: Crews looking for hidden beer cellars in downtown
Read News Channel 17 story: Brewery historian, Vandy professor to search for historic beer tunnels under Nashville
On May 13 & 14, local brewery historian Scott R. Mertie and Vanderbilt University Anthropology Professor John Janusek will utilize ground-penetrating radar equipment in an attempt to rediscover long-lost beer cellars and tunnels dug under Sixth Avenue South by the Nashville Brewing Company (1859-1890) and later utilized by the William Gerst Brewing Company (1890-1954).
Mertie has partnered with Janusek, a long-time friend and fellow breweriana collector, to investigate the existence of these cellars. Janusek, in collaboration with Ryan Williams of the Chicago Field Museum of Natural History, will utilize ground-penetrating radar to scientifically map the area under Sixth Avenue South and the vacant lot across the street, which once contained the hop house and the home of William Gerst. If the radar evidence supports further study, Janusek, in conjunction with Vanderbilt's anthropology department, will later conduct an archeological dig at the location.
While conducting research for his book, Nashville Brewing (Arcadia Publishing; 2006), Mertie interviewed several former Gerst Brewery employees that spoke of a "tunnel" going from the brewery beneath Sixth Avenue South to the hop house. Mertie further discovered extensive documentation indicating there were cellars dug as early as the 1860s, which were used by the Nashville Brewing Co. to lager (German for "store") beer at cooler temperatures.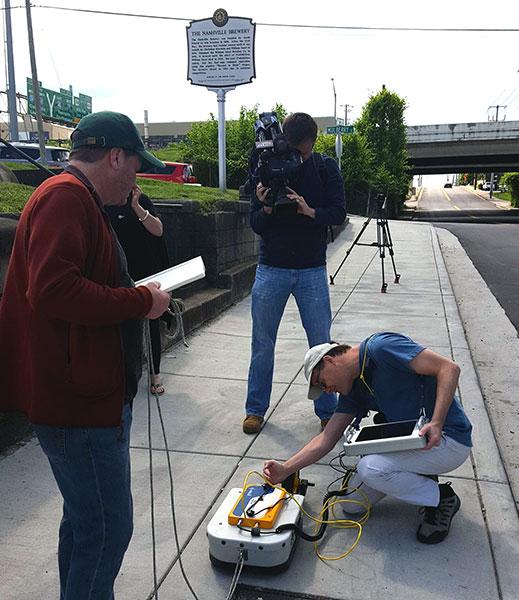 NBC was founded by Jacob Stifle in 1859 and operated under various owners until purchased by William Gerst and Christian Moerlein in 1890. They rebuilt the brewery, which operated at the same location until 1954. A historical marker is now located where these breweries once operated at the corner of South High (now Sixth Avenue South) and Mulberry Streets.
The Gerst Brewery was torn down in the 1960s, and the property was excavated for the foundation of a large warehouse, which still stands today. While cellars underneath the warehouse are unlikely, Mertie and Janusek are confident there will still be remnants of a tunnel underneath Sixth Avenue South and possible evidence of cellars under the vacant lot across the street.
Jessica Reeves, historic preservationist with the Metro Historical Commission, stated: "As the craft beer scene in Nashville continues to grow, it is exciting to look into the past of Nashville's brewery history. It is amazing to think there could be intact cellars which stored beer in our city over 150 years ago!"
In 2016, Mertie resurrected the Nashville Brewing Company and partnered with Blackstone Brewing Company to brew traditional European lagers; like the ones once brewed in Nashville in the late 19th Century. Mertie and his wife, Candy, are responsible for three brewery-related historical markers in Nashville.